Ultimate Unicorn Craft Box – a wildly fun box, overflowing with unicorns!
Scandinavian Hobby

& Crafts since 1954

Standard delivery

FREE over 59£

365 day return policy

for members
Stock status at your store
We do not have physical stores in the UK and can therefore not show stock balances.
Ultimate Unicorn Craft Box is sheer magic for young crafters, and guess what? It contains unicorns in every style and cheerful rainbow colours. This box has it all:
A large wooden unicorn – surprising, right!? The unicorn is 16 cm tall, 13 cm wide and 2 cm thick. And to make it truly beautiful, the box contains 5x5 ml paint, 5 coloured pencils and a paint brush. And last, but cutest – a gold pencil topped by a big, fluffy unicorn.
Two big, beautiful unicorn-shaped sewing cards (15x13 cm) and one rainbow (13x10 cm) as well as five threads in cheerful colours.
A colossal amount of adorable accessories for crafting away, like a real unicorn: glitter glue in 5 colours, tons of pompoms of all sizes, 30 cm pipe cleaners and a tub of funky foam containing oodles of rainbows and unicorns!
A 19x16 cm unicorn-shaped pegboard, 1000 Hama midi beads and ironing paper. More beads – 540 shimmering pearlescent pony beads in stunning colours as well as 10 metres of pink elastic cord.
An incredibly cute DIY Panduro Dough unicorn, unicorn stickers, unicorn tattoos and instructions. Ages 5+.
If you've read this far, you've read the word unicorn 12 times! Unicorn! 13 times.
We have no additional information you may need in your creation.
Creative ideas
This is the place to find inspirational tips and ideas for what you can make with the product you are viewing.
DIY idea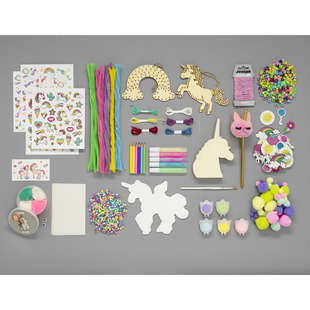 Tips for Pyssellåda Unicorn
Shared happiness is double happiness! Get inspired by others @panduroofficial