Panduro Hobbylack painting kit spring
Scandinavian Hobby

& Crafts since 1954

Standard delivery

FREE over 59£

365 day return policy

for members
Stock status at your store
We do not have physical stores in the UK and can therefore not show stock balances.
Hobbylack Painting Kit Spring is a tribute to spring colours! Panduro's own consistent top-seller through the decades – and for good reason. Our Hobbylack paint is incredibly versatile and will add a special touch to every project and festivity you can imagine. The kit contains 10 versatile brushes, 8 paints in spring colours, and one plastic palette.
8×20 ml matt Hobbylack paint in the following colours: white, yellow, pink, light pink, mango, sky blue, anise green, dark violet. The containers are made of 25% recycled plastic. The paints are intended for indoor use and are water-based, matt and acid-free. Touch-dry in approx. 15 mins. All paints are completely free from animal ingredients.
10 great all-purpose brushes with synthetic bristles, both round and flat. Made in light wood, with metal ferrules.
Also includes a single plastic palette measuring 13x8.5 cm.
Color/Type
Set containing Hobbylack matte craft paint, palette and paintbrushes. Perfect for all your spring and summer crafting projects. Stones not included.
Contains 5-chloro-2-methyl-4-isothiazolin-3-one and 2-methyl-2H -isothiazol-3-one (3:1) and 1,2-benzisothiazol-3(2H)-one (biocide). May produce an allergic reaction.
Warnings
Creative ideas
This is the place to find inspirational tips and ideas for what you can make with the product you are viewing.
DIY idea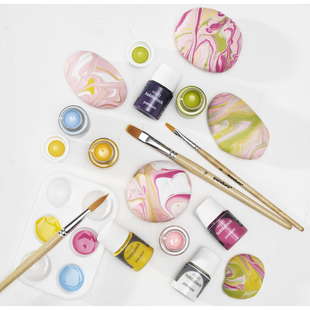 Tips for Hobbylack painting kit spring
Shared happiness is double happiness! Get inspired by others @panduroofficial